Wilam: A Birrarung Story
by Aunty Joy Murphy Aunty Joy; Andrew Kelly Andrew; Lisa Kennedy Lisa
$24.99
AUD
Category: H/C Picture Books | Reading Level: Eve Pownall Award
Wilam: A Birrarung Story is one day on a vital, flourishing river. As ngua rises, Bunjil soars over mountain ash, flying higher and higher as the wind warms. Below, Birrarung begins its long winding path down to palem warreen. Wilam – home. Yarra Riverkeeper Andrew Kelly joins award-winning picture book duo Aunty Joy Murphy and Lisa Kennedy to tell the Indigenous and geographical story of Melbourne's beautiful Yarra River, from its source to its mouth; from its pre-history to the present day.   ...Show more
Family
by Aunty Fay Muir, Sue Lawson
$24.99
AUD
Category: H/C Picture Books | Series: Our Place Ser.
Age range 3 to 9 Family is a thoughtful contemplation for all to learn the different ways that family makes us whole. This beautifully illustrated children's picture book shows everyone that 'family' can be about heart and home; an endless sky; stories and songs. It  'learns' us how to be with each othe r and with Country. Families come in all shapes and sizes, and this remarkably simple story teaches us all, that family can be many things. ...Show more
$16.99
AUD
Category: H/C Picture Books
Bluey and Bingo love their mum and she loves them! Discover all of Chilli's special mum skills in this touching and humorous book. The perfect Mother's Day gift for Bluey fans young and old. Bluey has been a phenomenal success since airing on ABC KIDS in October 2018, amassing legions of dedicated fans and hugely popular ranges of books, toys, clothes, games and more. It holds the coveted position of being the most watched program ever on ABC iView, with over 260 million plays for Series One, and is the winner of an International Emmy for Most Outstanding Children's Programme.   ...Show more
$19.99
AUD
Category: H/C Picture Books
No matter who you are, this book celebrates that we can all extend a hand, make amends, share a laugh, solve a problem, heal a hurt, and love one another. There are so many ways to care and to show that . . . we are all KIND.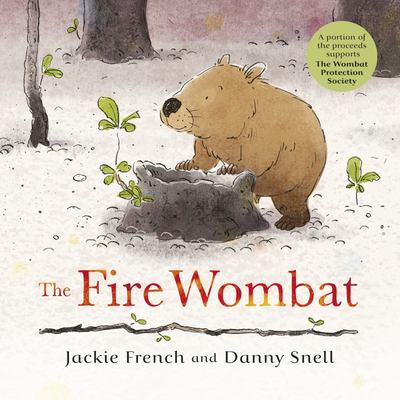 $19.99
AUD
Category: H/C Picture Books
 As the bushfire swallowed up the world they knew, a wombat shared her burrow with other animals. As the flames of the bushfire approach, one small wombat is bravely followed by other animals to the safety of her underground burrow. From best-selling author and Australian Children's Laureate, Jackie Fre nch, and award-winning illustrator, Danny Snell, comes a story of survival, courage and friendship. ...Show more
Evie and the Bushfire
by Becky Westbrook; Jet James (Illustrator)
$26.99
AUD
$29.95
(9% off)
Category: H/C Picture Books
Evie is a spirit girl. When her island home is devastated by bushfire, she emerges from the shelter of her cave to discover her community has lost all hope. But Evie refuses to believe that hope can be destroyed alongside homes and livelihoods. 'The fire may have taken many things, but the fire can neve r take everything' she says.   Finally, Evie finds a glimmer of hope in the eyes of a young boy named Tom even though he teeters on the brink of grief and despair. Evie helps Tom find new inner strength, 'Are you listening to the earth Tom?' Her eyes sparkle. 'Listen to the earth, the fire, the water, the air. They are part of you, ' and together they guide their community towards hope again.   Inspired by bushfires that have affected many Australians, Evie and the Bushfire is a moving and sensitive story of surviving a natural disaster, narrated through the eyes of children. ...Show more
$26.99
AUD
Category: H/C Picture Books
A heartwarming celebration of Christmas, family and faith by two of Australia's finest picture book creators.  Sarah loves her two grandmas - Grandmother Azar and Grandmother Maria. Grandmother Azar tells Sarah stories from the Holy Koran, while Grandmother Maria tells her stories from the Bible. At Ch ristmas time, Sarah snuggles in each of her grandmothers' laps and listens to two nativities stories about the birth of baby Jesus. They are the same in some ways, and different in others ... but both can be Sarah's favourite.  ...Show more
$19.99
AUD
Category: H/C Picture Books
DO NOT OPEN THIS BOOK AGAIN! He's back! And, once again, this cheeky blue character does not want you to open this book or turn its pages. What reason does he have this time? This fun story will delight children and adults alike. Keep turning the pages and find out what happens when you reach the end al l over again, if you dare! ...Show more
$24.99
AUD
Category: H/C Picture Books
Where have all the brave bears gone? Under the bright, shining stars, a young cub lost in the snow searches for the ones he loves. Embarking on a surprising journey, and warmed by memories, he finds a new friend... and reunites with old ones. A moving and redemptive tale from performer, writer and artis t Paul McDermott. ...Show more
$24.99
AUD
Category: H/C Picture Books
A spectacular new title from world-renowned artist Oliver Jeffers, creator of the million-copy selling, global phenomenon Here We Are! What shall we build, you and I? I'll build your future and you'll build mine. We'll build a watch to keep our time. A father and daughter set about laying the foundation s for their life together. Using their own special tools, they get to work; building memories to cherish, a home to keep them safe and love to keep them warm. From renowned, internationally bestselling picture-book creator and visual artist, Oliver Jeffers, comes this rare and enduring story about a parent's boundless love, life's endless opportunities and all we need to build a together future. ...Show more
$17.99
AUD
Category: H/C Picture Books
The Grinny Granny Donkey is the third book from Craig Smith and Katz Cowley, the creative team behind the Scottish Granny internet sensation, The Wonky Donkey! At a time when bringing stories of laughter, hope, kindness and courage to children seems more important than ever, The Grinny Granny Donkey de livers a heartwarming hug and a dose of laugh-out-loud family fun in honour of grannies everywhere. This hee-haw funny story by Craig Smith and beautiful illustrations by Katz Cowley guarantee that The Grinny Granny Donkey will become a new favourite picture book. ...Show more