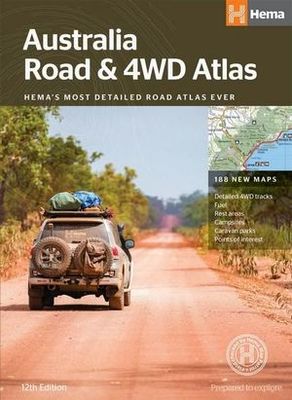 $34.95
AUD
Category: Aussie Travel
Featuring trusted Hema mapping for all of Australia, the perfect bound Hema Road & 4WD Atlas is the definitive travel guide for tourers and adventurers. Hema atlases feature more information useful to travellers, including 4WD tracks, campsites, caravan parks, rest areas, 24-hour fuel and points of interest. The new edition contains more mapping than ever before, which is enhanced by a striking new cartographic style that¿s incredibly easy to read. Included in this is up-to-date mapping for Australia¿s biggest 4WD destinations: Cape York, Fraser Island, the Top End, the Kimberley, the Pilbara, Central Australia, High Country Victoria and the Flinders Ranges. A handy distance grid, national park guide, list of accredited information centres and a complete index are also included to assist with trip planning and navigation, making it the perfect tool for guiding tourers, campers, road trippers and off-roaders throughout Australia.   ...Show more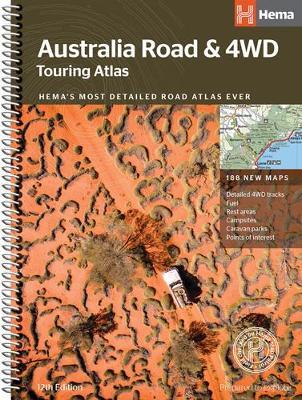 $34.95
AUD
Category: Aussie Travel
Featuring trusted Hema mapping for all of Australia, the Hema Road & 4WD Touring Atlas is the definitive travel guide for tourers and adventurers. Hema atlases feature more information useful to travellers, including 4WD tracks, campsites, caravan parks, rest areas, 24-hour fuel and points of intere st. The new edition contains more mapping than ever before, which is enhanced by a striking new cartographic style that¿s incredibly easy to read. Included in this is up-to-date mapping for Australia¿s biggest 4WD destinations: Cape York, Fraser Island, the Top End, the Kimberley, the Pilbara, Central Australia, High Country Victoria and the Flinders Ranges. A handy distance grid, national park guide, list of accredited information centres and a complete index are also included to assist with trip planning and navigation, making it the perfect tool for guiding tourers, campers, road trippers and off-roaders throughout Australia. ...Show more
$45.00
AUD
Category: Aussie Travel
Loving Country is a book that inspires ultimate respect for Mother Earth and the role of her custodians. While readers are encouraged to discover the sacred country of Australia in an open-minded and sensitive manner, the intention of this book is to foster communication and understanding between all pe oples and country, to bring about a range of environmental and social changes. Co-authors Bruce Pascoe and Vicky Shukuroglou hope to empower communities to tell their own stories, and for people to honour them and the country from which they have grown. Beautifully designed, all of the writing and photography in Loving Country has been created in consultation with communities. From the ingenious fish traps at Brewarrina and the rivers that feed the Great Barrier Reef, to the love stories of Wiluna and the whale story of Margaret River, there is so much to celebrate and admire about the oldest continuing culture in the world. For those who want to do more than a whistle-stop tour of Australia, this book offers some keys to unlock and reveal the heart of this loving country. ...Show more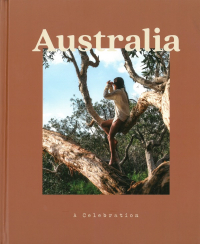 Australia - A Celebration
by Honey Pty Ltd (Compiled by, Cover Design by, Editor, Created by, Concept by, Designed by)
$19.99
AUD
Category: Aussie Travel
A celebration of place and the awesome beauty, both natural and man-made, that epitomises Australia. Featuring both well known and undiscovered locations, these gorgeous coffee table books celebrate nature's stunning landscapes and the iconic cityscapes that sum up Australia and New Zealand.  Also Avai lable - New Zealand ...Show more
$39.99
AUD
Category: Aussie Travel | Series: Ultimate Ser.
Australians have always loved a good road trip, whether it's a leisurely Sunday drive through wineries or to a beach near a major city, a quick weekend getaway into the mountains or roughing it on a remote outback track. And hitting the road is a great way to spend our holiday time with family and frien ds. In Ultimate Road Trips: Australia, author Lee Atkinson highlights 40 of the best driving holidays around the country. Each chapter includes information on things to see and do, detailed route maps and a handy list of distances to help you plan your trip, as well as lots of useful advice on family-friendly attractions, where to eat and the best hotels, guesthouses, caravan parks and camping spots. You'll also find details on the best time of year to visit, driving tips and a guide to surviving a road trip with a back seat full of kids. Keep this book in the car for when you're out on the road, or curl up with it at home and dream about your next journey.     ...Show more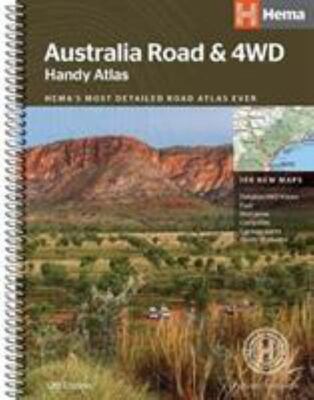 $24.95
AUD
Category: Aussie Travel
Featuring trusted Hema mapping for all of Australia, the Hema Road & 4WD Handy Atlas is the definitive travel guide for tourers and adventurers. Hema atlases feature more information useful to travellers, including 4WD tracks, campsites, caravan parks, rest areas, 24-hour fuel and points of interest . The new edition contains more mapping than ever before, which is enhanced by a striking new cartographic style that¿s incredibly easy to read. Included in this is up-to-date mapping for Australia¿s biggest 4WD destinations: Cape York, Fraser Island, the Top End, the Kimberley, the Pilbara, Central Australia, High Country Victoria and the Flinders Ranges. A handy distance grid, national park guide, list of accredited information centres and a complete index are also included to assist with trip planning and navigation, making it the perfect tool for guiding tourers, campers, road trippers and off-roaders throughout Australia. ...Show more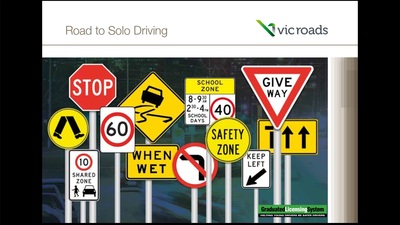 $24.00
AUD
Category: Aussie Travel
The Road to Solo Driving handbook is designed to help you understand the road rules, know your responsibilities and prepare you for the challenges of driving. The learner permit test questions are based on this handbook. You will also need to know the information in the Road to Solo Driving to pass your drive test in order to get your licence. The Road to Solo Driving handbook will help you study for your learner permit and licence tests. It contains important road safety and road law information. ...Show more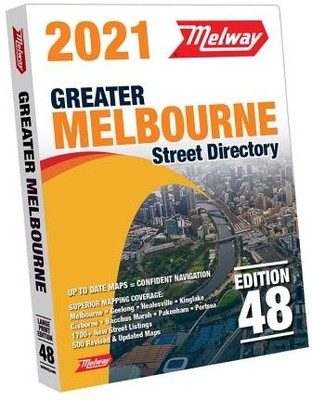 $54.95
AUD
$62.95
(12% off)
Category: Aussie Travel
In keeping with Melway's policy of continuous improvement through high standards of detailed mapping, all maps have been thoroughly researched and updated for this 48th edition.   Melway, the most comprehensive street directory available for the Greater Melbourne area, has coverage extending from Wal lan, Whittlesea and Kinglake in the north to the Mornington Peninsula in the south, Warburton and Tynong in the east to Bacchus Marsh and Geelong in the West. Regional areas of Kilmore, Macedon, Gisborne, Riddells Creek, Bannockburn, Torquay, Anglesea, Lorne, Phillip Island and Koo Wee Rup are also included.   What's Included • Construction has commenced on the new West Gate Tunnel - At over 4 kms long, the new tunnel will provide a viable alternative to the West Gate Bridge. • Construction continues on the Melbourne Metro Rail Tunnel - this will add five new stations from South Kensington railway station to South Yarra railway station. Station names are North Melbourne, Parkville, State Library, Town Hall and Domain. • Over 1700 new street listings • Over 500 revised and updated Street Listings • Cross referenced street listings - The Melway street index features alternative (sounds like) spellings and cross referencing of multi-part street names. Now you can find your way even when you only have part of the name or an incorrectly-spelled name. ...Show more
$39.99
AUD
Category: Aussie Travel | Series: Ultimate Ser.
In Ultimate Campsites: Australia, Penny Watson maps out 75 of the country's most wild and wondrous nature-based campgrounds, from the turquoise and white sandy beaches of Queensland and pristine national parks of New South Wales, to the wineries of South Australia and the wilderness areas of Tasmania. Ever pitched a tent within a stone's throw of a picturesque waterfall? Ever woken up in a sleeping bag to the gentle sound of waves? Ever seen the sun go down in the desert or fallen asleep in an ancient rainforest? Well, now's the time to tick off these experiences on your camping bucketlist! Each state-by-state chapter in Ultimate Campsites: Australia contains detailed maps and the what-when-why-where information about each campground, alongside tips and anecdotes about the surrounding regions. You'll find special sections dedicated to remote-island campgrounds, as well as sites with great walks and places close by to Indigenous cultural experiences. There are also quick and easy lists for camping with pets, free camping, 4WD access and commercial campgrounds, and handy camping trail itineraries for when you want to tick off two or three campgrounds in one trip. This book is an essential tool for the glovebox, be it in a 2WD or a motorhome. It's also the kind of book that will get plenty of wear and tear on the coffee table while you're planning that next big adventure in Australia's great outdoors. ...Show more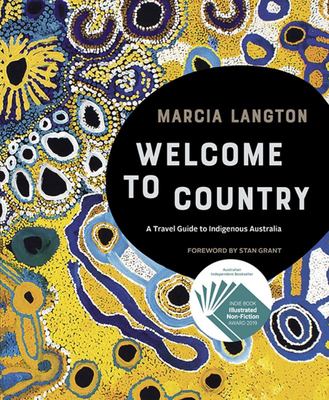 $39.99
AUD
Category: Aussie Travel
Marcia Langton: Welcome to Country is a curated guidebook to Indigenous Australia and the Torres Strait Islands. In its pages, respected Elder and author Professor Marcia Langton offers fascinating insights into Indigenous languages and customs, history, native title, art and dance, storytelling, and cu ltural awareness and etiquette for visitors. There is also a directory of Indigenous tourism experiences, organised by state or territory, covering galleries and festivals, national parks and museums, communities that are open to visitors, as well as tours and performances. This book is essential for anyone travelling around Australia who wants to learn more about the culture that has thrived here for over 50,000 years. It also offers the chance to enjoy tourism opportunities that will show you a different side of this fascinating country -- one that remains dynamic, and is filled with openness and diversity. ...Show more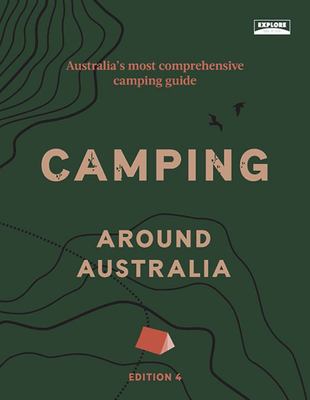 $44.99
AUD
$50.00
(10% off)
Category: Aussie Travel
Now in its fourth edition, Camping around Australia has become the go-to guide for all recreational campers. With over 3200 campsites included across the country, particularly highlighting campsites in national parks and other green areas, the problem isn't finding somewhere to camp - it's deciding whic h one to choose. Basically the only thing the book doesn't do is set up your tent for you! All of the information has been checked and updated by a team of researchers, including all campsite symbols such as free camping and dog-friendly campsites. We've also included a new symbol for wifi access and note which phone companies you will be most likely to get reception with. So whether you're an urbanite wanting to get back to nature, a family wanting to spend quality time outdoors, backpackers wanting to see the real country or roadtrippers looking for budget accommodation, there's no better guide for navigating Australia's campsites.     ...Show more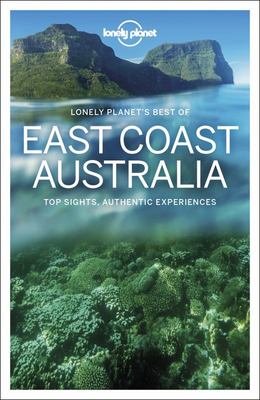 Lonely Planet Best of East Coast Australia
by Lonely Planet; Anna Kaminski; Tim Richards; Tamara Sheward; Tom Spurling; Andy Symington; Benedict Walker; Ali Lemer; Jayne D'Arcy; Cristian Bonetto; Monique Perrin; Lindsay Brown; Peter Dragicevich; Anthony Ham; Trent Holden
$34.99
AUD
Category: Aussie Travel | Series: Best of Country Ser.
Lonely Planet's Best of East Coast Australiais your passport to the most relevant, up-to-date advice on what to see and skip, and what hidden discoveries await you. Snorkel the Whitsundays, tour the Opera House or bushwalk at Wilsons Prom; all with your trusted travel companion. Discover the best of Eas t Coast Australia and begin your journey now! InsideLonely Planet's Best of East Coast Australia: Up-to-date information - all businesses were rechecked before publication to ensure they are still open after 2020's COVID-19 outbreak Full-colour images throughout Highlightsand itinerarieshelp you tailor your trip to your personal needs and interests Insider tipsto save time and money and get around like a local, avoiding crowds and trouble spots Essential infoat your fingertips- hours of operation, phone numbers, websites, transit tips, prices Honest reviews for all budgets- eating, sightseeing, going out, shopping, hidden gems that most guidebooks miss Cultural insights give you a richer, more rewarding travel experience - history, art, food, wine, sport, landscapes, wildlife Free, convenient pull-out Sydney map ...Show more